Nokia 5G Gateway 3 (Gen2)
---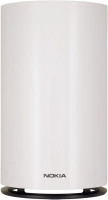 Buy now
Search in Nokia 5G Gateway 3 (Gen2)
Guide to the router touch LCD screen
The router touch LCD screen displays various settings and events.
List view
The LCD screen
Slide your finger right or left on
the LCD screen
to change between the different menu items and tap the screen to change view or select the different functions.
The LCD screen can, among other things, display signal strength, a list of connected devices, WPS function, help functions and speed measurement. Signal strength will vary depending on obstructions and placement in the home or office. Download the "My Optus" app on your mobile phone and see the help section in our "5G Home modem setup guide", including optimal placement with regard to your closest 5G tower.