Nokia 5G Gateway 3 (Gen2)
---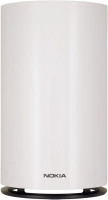 Buy now
Search in Nokia 5G Gateway 3 (Gen2)
Establish a connection to your router's web interface
If you want to change router settings, you need to establish a connection to the router web interface.
List view
Establishing a connection to the internet
Do the following on your computer: Click
the network icon
.
Click
the name of your Wi-Fi Hotspot
.
You'll find the Wi-Fi Hotspot name and password at
the bottom
of your router.
If you're asked to key in the password for your Wi-Fi Hotspot do so, and click
Next
.
Establish a connection to your router's web interface
Open
an internet browser
on your computer and go to
192.168.1.1
Click
the field below "Username"
and key in your username.
Click
the field below "Password"
and key in your password.