Nokia 5G Gateway 3 (Gen2)
---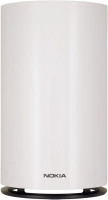 Buy now
Search in Nokia 5G Gateway 3 (Gen2)
Update the router firmware
It's recommended you update your router with the latest firmware, as the manufacturer continuously corrects errors and releases security updates. Remember, you need to establish a connection to the router web interface.
List view
Update the router firmware
Your router automatically downloads and installs new firmware updates.
A new router will automatically update to the latest firmware within 24 hours of connection.