Nokia 5G Gateway 3 (Gen2)
---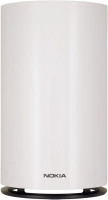 Buy now
Search in Nokia 5G Gateway 3 (Gen2)
Insert SIM
Your SIM must be inserted before you can use your router.
List view
Insert SIM
Turn the
bottom
of your router towards you.
Remove the SIM holder from
your router.
Turn your SIM so the angled corner of the SIM matches the
angled corner of the SIM holder
and place it in the SIM holder.
Please note: your router only supports nano SIMs.
Slide the SIM holder
into your router.