Nokia 5G Gateway 3 (Gen2)
---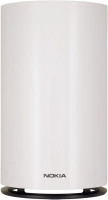 Buy now
Search in Nokia 5G Gateway 3 (Gen2)
Guide to router keys and sockets
The list below shows you what the different keys and sockets on your router are used for.
List view
Power plug
Connect the power supply to the
power plug
and to a power point.
On/Off
Tap
On/Off
to turn your router on or off.
"WAN" port
On this router
the "WAN" port
acts as an extra "LAN" port.
"LAN" port
Connect your computer or game console to
the "LAN" ports
.
"USB" port
Connect a USB storage device to
the "USB" port
to share files with other users on the network.
"RESET" hole
Insert a sharp-pointed object into
the small hole next to "RESET"
and hold it for at least 5 seconds to restore the factory default settings.
LCD screen
Slide your finger right or left on
the LCD screen
to change between the different menu items and tap the screen to change view or select the different functions.
The LCD screen can, among other things, display signal strength, a list of connected devices, WPS function, help functions and speed measurement.