Huawei B818
---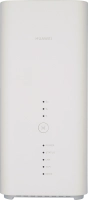 Write and send SMS
An SMS is a message which can be sent to mobile phones.
List view
Create new SMS
Click
the new message icon
.
Enter the recipient's number
Click
the recipient input field
and key in the number of the recipient.
Write text
Click
the text input field
and write the text for your SMS.
Send SMS
Click
the send icon
when you've finished your SMS.