Huawei B628
---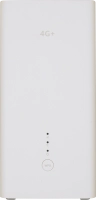 Insert SIM
Your SIM must be inserted before you can use your router.
List view
Insert SIM
Take hold of
the SIM slot cover
and remove it.
Orient the nano SIM to match
the image near the slot
.
Please note: your router only supports nano SIMs. If you're using a newly provided SIM, push out the smallest SIM (white) from the SIM holder.
Slide the nano SIM into
the SIM slot until it clicks into place.
Replace
the SIM slot cover
and press it into place.