Apple iPhone 6s Plus
Change device
iOS is the operating system software installed on your iPhone. To find out which version you have: Tap Settings, Tap General, Tap About, and view the version number.
Change device
---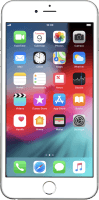 Buy now
Search in Apple iPhone 6s Plus
How to
Write and send iMessage
You can send iMessages to phone numbers or email addresses if the recipient has a device that supports iMessage. Before you can send and receive iMessages, you need to set up your mobile phone for iMessaging.