Apple iPhone 6s Plus
Change device
iOS is the operating system software installed on your iPhone. To find out which version you have: Tap Settings, Tap General, Tap About, and view the version number.
Change device
---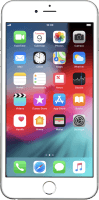 Buy now
Search in Apple iPhone 6s Plus
How to
Write and send email
You can send and receive email from your email accounts. Before you can send and receive email, you need to set up your mobile phone for email.