Apple iPad 4
---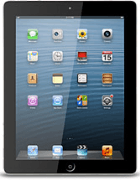 I can't use Wi-Fi
This troubleshooting guide will take you through a number of possible causes
to help you find a solution to your problem.
Open the browser on your tablet and try to load a website. The browser is redirected to the homepage of the Wi-Fi network. Follow the instructions on the display to log on. If you can't log on to the Wi-Fi network, turn off Wi-Fi on your tablet and connect to the internet using the mobile network.